Have Fun Again
I've been intending to start  this blog back up again, since I've returned to Second Life. I meant to post sooner, and had already started gathering photos for a sim I've been exploring. But something else happened first. And in a way, it seems more fitting that my return post should be about this.
It's about Keeme. Someone very important to me. I don't think you'll find many entries on this blog that don't mention him. He's one of the first people I met when I came to SL. We formed a connection pretty much as soon as we met. He became my partner in SL, my podcast partner, my partner in crime. One of my very best friends. Someone that I love.
Today would have been his birthday, in real life. Tomorrow is his funeral.
You see, Keeme passed away a few days ago. On Sunday, Nov. 11th, 2018.
I found out fairly recently that he was sick, and it's what brought me back in to Second Life. It reminded me to find the magic in here, again. Shortly before he got really sick, he sent a video message out to his friends, telling us to not worry about him, and to keep having fun.
"Please return to all the happiness and cool. Please have fun again."
I'm going to honor that. I feel like everywhere I look in Second Life, a piece of Keeme is still here, and will always be here. And as long as we smile and laugh when we remember all the fun times we had with him, and celebrate our memories of him, he'll never be gone. So that's what I'm doing. I started a project tonight. I rented our old parcel on Corona Cay, and I had been trying to think of some sort of build I can put here where I can display all of the photos, art, goofy things he's built, funny things that represent him, and it finally hit me. Crime House!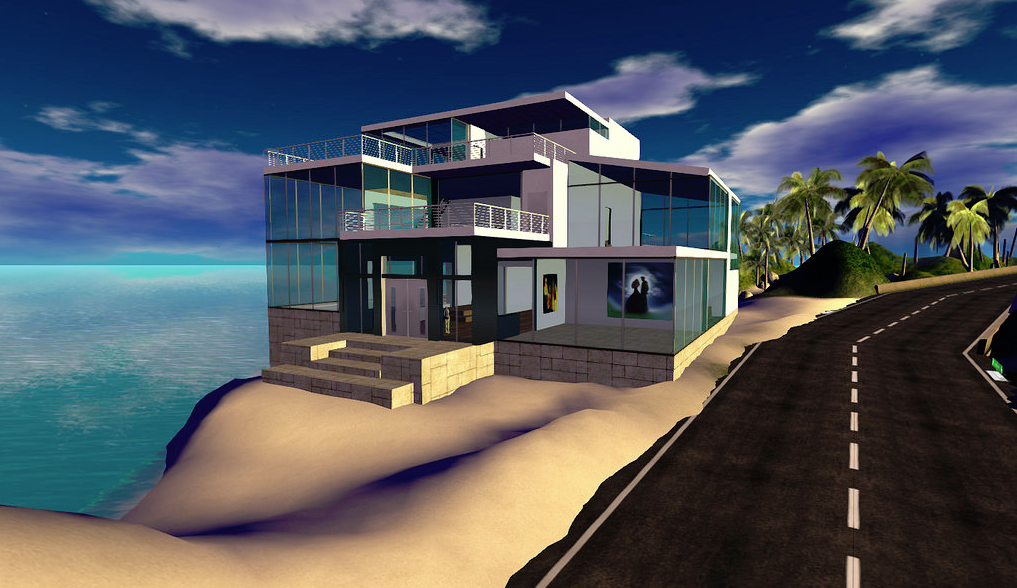 Every inch of that place is infused with memories. I can't think of a better way to display them.  It's going to take a long time to fill this house- it's a big one, and I have a lot of great memories to share. So do all the rest of his friends. Between us all, we'll make sure that Keeme will never be forgotten.
There is a very important art piece that absolutely must be added. It's one I took many years ago, when Keeme's uncle Juanito was in Second Life. The two of them were extremely close, and I used to hear  so many stories about Juanito before I got to meet him in SL. We took him out exploring once and ended up at a little coffee shop that had a nice patio area. Keeme and Juanito were sitting across the table from each other and talking on voice, and I took a snapshot and made it into an art piece. Sadly, Juanito passed away not long after that. I can't find the original photo or art piece in my inventory right now because I can't remember what it was called, but I'll find it. Here's a little snippet from my blog and a photo I took of the piece, at the time. I like to think that somewhere up there, they're sitting together now, having that cup of coffee, talking and laughing like they did that night.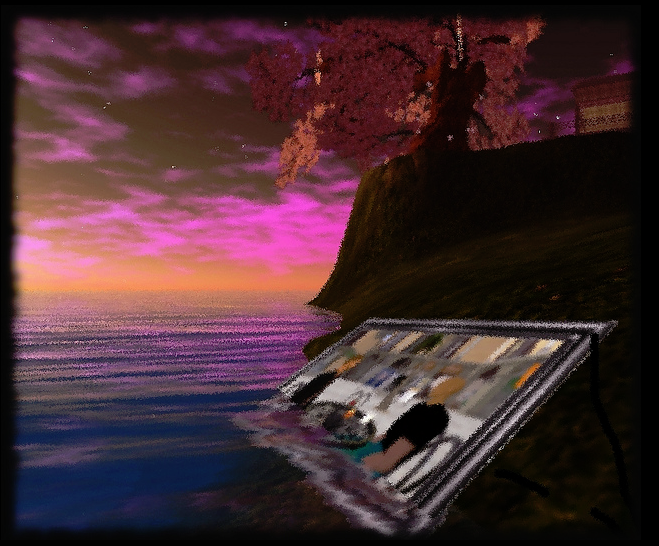 Juanito was Keeme's (my partner) uncle- but as he was only two years older and they grew up together, they were best friends. When they were in their teens, Juanito was in a very bad car accident that left him a quadriplegic. Keeme told me how he'd hide out in Juanito's hospital room after visiting hours, and they'd stay up talking well into the night, but Keeme would not leave his side.
Early last year, Keeme was able to buy a laptop for Juanito that would run SL, and sent it to him at the hospital where he lived. Juanito had spent the majority of his life in a hospital bed, and Keeme wanted him to experience the freedom SL could give him, as well as the social benefits of being able to meet and hang out with his friends. I was excited to meet Juanito, because I had heard so many stories about him from Keeme. It was clear how much Keeme loved and respected him. When Juanito was able to start logging in, Keeme and I were there to guide him along. Because of his very limited mobility as well as a vision impairment, he was not able to navigate around as easily as most. He could not type or read text chat, access his inventory or use the map or search functions. But he was able to walk and fly around, accept teleports and voice chat with people. Those times meant more to him than a lot of people ever knew.They were special times, and I'm so glad I got to know him.
Juanito died last summer, due to complications from an infection he got in the hospital. Even though his health had been poor for years, it was still sudden and unexpected. One week from today, I will be visiting SL Memorial Park for the Day Of Remembrance.
There is a painting Keeme and I keep somewhere on our land, to remember Juanito by. It's a photo Keeme took of the two of them, not long before he died. It moves around, depending on the build. But it's always there, somewhere.
I miss you, Juan Texan.
And I miss you too, Keeme Brown.
Love forever,
Nika